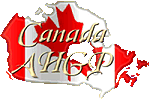 This territory and it's counties are available to be hosted. Please contact me if you are interested in hosting this site.
Northwest Territories, administrative region of Canada, encompassing all the country, N. of lat. 60 degrees N., except Yukon Territory and the northernmost parts of Quebec Province and Newfoundland. It is bounded on the N. by the Arctic Ocean, on the NE by Baffin Bay; on the East by Baffin Bay, Davis Strait, and Hudson Bay; on the South by the provinces of Manitoba, Saskatchewan, Alberta, and British Columbia, and on the West by the Yukon Territory. The region comprises an extensive mainland, a complex of thousands of islands extending from the mainland N. to within about 500 miles of the North Pole, and the islands of Hudson, James and Ungava Bays.

The Northwest Territories was acquired by Canada in 1870, and its present boundaries were drawn in 1912. A vast, sparsely settled region, the Northwest Territories was formerly important mainly as a fur trapping region. Since the 1950's it has become well known for its mineral production.

Northwest Territories
Deline
First Nation
Fort Liard
Fort Providence
Fort Simpson
Fort Smith
Hay River
Inuvik
Norman Wells
Salt River
Yellowknife
Northwest Territories Facts:

Capital: Yellowknife
Floral Emblem: Mountain Avens
Area: 1,304903 sq. mi, includes 51,465 sq. mi of inland water; largest of the provinces and territories.
Coastline: 100,516 mi
Highest Point:: Mt. Sir James MacBrien, 9062 ft
Lowest Point: Sea level, along the Arctic Ocean
Principal Rivers: Mackenzie, Back, Thelon, Coppermine
Principal Lakes: Great Bear, Great Slave, Dubawnt, Baker