I am Linda Simpson, new host for AHGP Canada.

Our host, Canadian Genealogy, will gladly provide free hosting and support for any enthusiasts out there who would like to host a Province, County, or Town site.
All Webmasters who have sites with AHGP Canada are independent Webmasters, you have to ask us to link, but all are welcome. Unlike other projects, we don't have a long list of rules, and we provide free, unadvertised hosting for your project website!

We do ask you display the Canadian logo on your page and "Hosted Free at Canadian Genealogy"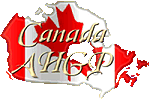 with a link back to AHGP Canada
http://www.canadiangenealogy.net/ahgp_index.htm
You may also use an AHGP Logo from their Logo Page with a return link to
AHGP
http://www.ahgp.org
You may belong to and participate in other projects with the same page or web project.
FREE Hosting at Canadian Genealogy
AHGP have provided three mail lists, subscription is optional
AHGP-Announce list. For announcements only
send an email to: ahgp-announce-subscribe@yahoogroups.com
AHGP list. This list is where people chat about what is going on in their day! Fun list
AGHP-subscribe@yahoogroups.com
AHGP list. This list is to share info on our sites, ask for help with html problems
send an email to: AHGP-subscribe@yahoogroups.com